The RBA have decided to hold rates at 1.5%. This is no surprise as the property market in Sydney has continued its growth along with most of the other states with the exception of Perth & Darwin.
However these graphs by Macrobusiness show the real story of what is happening: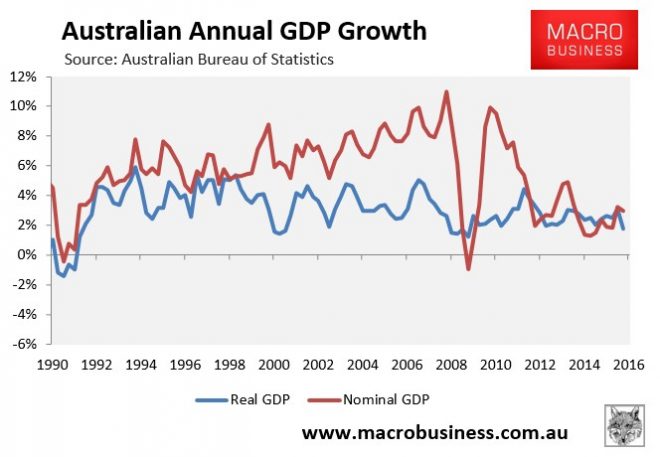 There is clearly a difference between 3% real growth & 3% nominal growth which is exactly what's occurring in Australia. This can be attributed to the high immigration program the country is running.
The graph above clearly shows that our average growth is on the decline as demand for our resources has dropped off and so have prices from their peak, but to the contrary, our cost of production has reduced allowing our big companies such as Rio Tinto, BHP & FMG to stay profitable.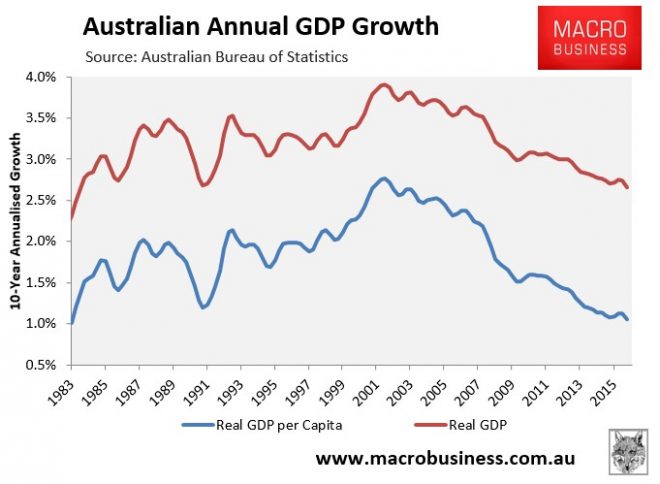 Looking at the annualised growth, after reaching our peak in 2001 right after the Sydney Olympics, the economy has been on a downtrend in terms of GDP.
Again this can be attributed to high immigration with the GDP per capita growth dwindling down from 2.5% per capita in 2001 to 1% in 2016.
This is shocking, to say the least.